Proudly Made in the USA
Since 1982
, Western Mule Cranes has set out to offer a complete line of lifting solutions to satisfy the lifting needs across various fields of work.
Cranes are what we know
and cranes are what we do
A Western Mule Crane saves:

TIME


MONEY


Prevents INJURIES on the jobsite!
Whats new???
We are constantly building upon our product line to offer you new and innovative solutions for your lifting needs.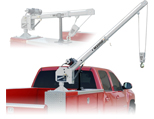 The M2000
Telescoping Boom Crane

Wireless Remote Option
(WO-39)