Products
Click on a style below for more information
Telescoping Boom Cranes
8 DIFFERENT MODELS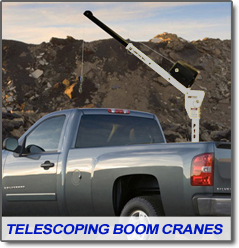 The unique Western Mule Telescoping Boom Cranes are not only versatile in their heavy duty lifting capability, but also in the manner in which they are stored; compact and secure, in a minimal amount of space.
Features:
Compact storing position
Lifting Capacity 700-2000 Lbs.*
12V-DC, 120V-AC, or Manual Hand Crank Powered*
Adjustable Boom Height & Length
360° Manual Rotation
Other options/accessories available

*Depending on specific model
Fold-A-Way Bumper Cranes
8 DIFFERENT MODELS
The Western Mule Fold-A-Way Bumper Cranes were designed to conveniently fold away into the bumper and out of your way when not in use. The heavy duty design allows you to lift up to 2000 Lbs depending on the model.
Features:
Crane Folds Away and Stores Into Bumper
Lifting Capacity 1000-2500 Lbs.*
12V-DC Powered
Built in Fold-Down Outrigger
Built in Class III / IV Receiver Hitch*
Other options/accessories available

*Depending on specific model